Horse Saddles For Kids

Improve your child's horse riding ability
Horse Saddles For Kids

Develop your child's confidence on a horse
Horse Saddles For Kids

Enhance your child's balance and co-ordination when riding
Horse Saddles For Kids
Improve your child's horse riding ability
Horse Saddles For Kids
Develop your child's confidence on a horse
Horse Saddles For Kids
Enhance your child's balance and co-ordination when riding
The Inky Dinky Horse Riding Saddle for Children
Kids' Horse Riding Saddles
Inky Dinky children's saddles are high-quality, hand-made, and light-weight to best support your child as they fall in love with horse riding. The first Inky Dinky horse saddle was created over 13 years ago, in 2006, and we have now crafted safe and secure saddles for children and families across the world.
The Inky Dinky saddle is the perfect kids' horse riding saddle to help you little one gain confidence on a horse whilst also having fun, because these saddles allow them to ride without assistance.
Building Confidence
Develop your child's confidence on a horse, improve horse riding technique, and enhance your child's balance and coordination all whilst having fun when horse riding. Because the Inky Dinky kids saddle safely supports and stabilises your child, you won't need to hold them whilst they ride. As our kids horse riding saddle is adjustable, your child will fit snugly in the saddle, so they relax and learn to move with the pony. This develops a great seat from a very young age, without instruction.
Once your children are able to sit and hold themselves upright independently, they're ready for their first children's horse riding saddle. We have two different options for kids saddles, the Synthetic Saddle and the Leather Saddle. Because our Inky Dinky kids saddles are adjustable, you're guaranteed to get many years of fun and adventure out of your Inky Dinky saddle.
Inky Dinky Horse Riding Saddle for Children
Reputation for Quality Kids Saddles
Each Inky Dinky child's saddle is hand-made by our expert team who have a love for horses and horse riding. There is no more reputable place to find reliable children's saddles. We have perfected riding safety with these kids' and toddlers' horse riding saddles, and we are proud of our many positive reviews from happy customers and their little horse riders! The Inky Dinky Saddle is treeless so fit's all shapes and sizes of horses and ponies. Our kids' saddles are always made to the highest quality, ensuring they are the best saddles available to little horse riders.
Our Leather Saddle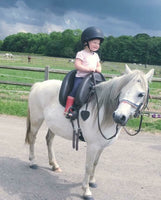 From Our Family, To Yours
Inky Dinky Saddles started as a solution for our family, as we couldn't find a reliable children's saddle that we felt confident enough in to give to our youngest daughter. Inky Dinky Saddles was born, and we began creating secure kids' horse riding saddles suitable for toddlers and children, so every child can learn the fun and excitement of horse riding without needing to be held upright and monitored. We're so pleased to be able to share our passion for horse riding with other families across the UK and the world. We ship direct to all countries. Please see our delivery charges for shipping information to your country.
Our Story
Contact Us
As specialists in kids horse riding saddles, we are dedicated to providing you with excellent customer service and the best quality horse saddle for your child to give you peace of mind and help your child develop their riding ability. Please Contact Us today, and we will happily discuss your kids saddle requirements, regarding size, colour and fit.
Testimonials
My 2 and a half year old daughter, her 18 month old friend and her 9 month brother all look so comfortable and secure in this saddle without being held at all. Its beautifully made and arrived in just a few days.The BEST children's saddle ever!!!

Claire Daniels – Cornwall
She even competed at Hickstead this year and it is all down to your saddle. Thank you.

Sophie
My young daughter rode my old cob who completely uncharacteristically spooked – I'm sure it saved her from a nasty fall. I thoroughly recommend it.

Nicole Golding – Moor Wood Stables, Cirencester
have had 2 incidents involving a spook and a trip and my daughter didn't even worry yet alone move…brilliant.

Trudee – Berkshire
Nina absolutely LOVES riding her pony Misty in her new Inky Dinky saddle! She may only be 14months but she has great balance already!

Kerrie
Best investment I've made.

Claire
Contact Us
As specialists in kids saddles, we are dedicated to providing you with excellent customer service and the best quality children's horse riding saddle, to give you peace of mind and help your little one develop their riding ability. If you would like to contact us, please fill out our online form to get in touch, and we will happily discuss your child's saddle requirements regarding size, colour and fit.